Local Spotlight: The Crystal Fish – Gifts of Distinction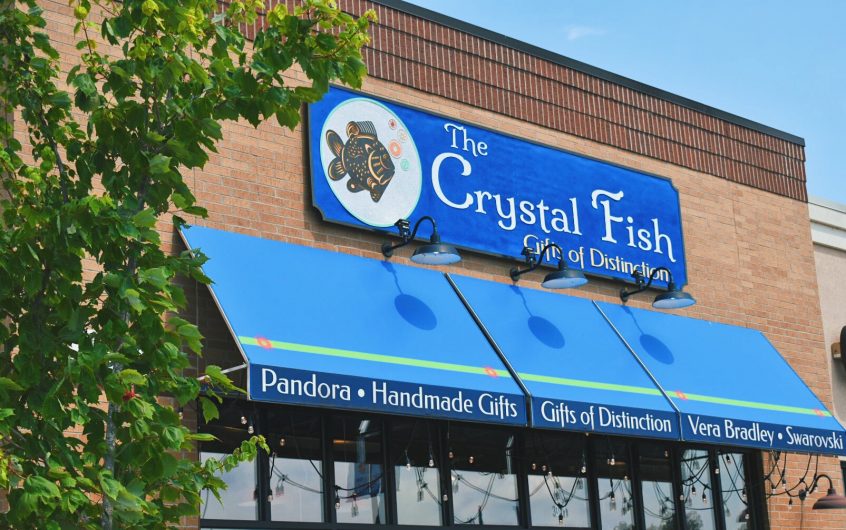 Have you ever received the perfect gift? Not like a new Crock-Pot because your old one quit or asking for a new phone case because you're too cheap to buy your own. Rather, a gift that simply left you speechless due to its beauty, sparkle, thoughtfulness, or the simple fact that it is one-of-a-kind.
Receiving the perfect gift can only be topped by giving the perfect present. This unparalleled feeling is difficult to come by. You walk in store after store only to find the same plain-Jane gifts. And Amazon isn't always the answer. Where do you turn for great selection and unique products that your loved ones will cherish?
Try The Crystal Fish – Gifts of Distinction! This shop has been around since 1985 and with 30+ years in the business, they are definitely doing gift-giving right! Shimmering elegance and the outdoors combine in this locally-owned store. With personalized service and fun products around every corner, you are guaranteed to find that perfect gift (and maybe a little something for yourself as well!)

What will you find in The Crystal Fish?
Hand-blown glass
Pottery
Jewelry
Art
Vintage decor
Much, much more
What the RIG team loves most about the store is the abundance of hand-made products. Owners, Linda & Tim Cherry, have their personal line of jewelry displayed in-store. The pieces are absolutely stunning, many are inspired by the beauty of the Ozarks.
The displays at the Crystal Fish make it easy to imagine where you could place items in your home. This display features hand-blown glass with bright & cheery colors. The bulbs of glass would be fitting in front of a window or next to hanging plants on the front porch.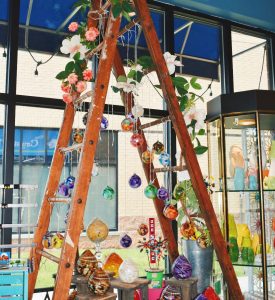 Robbins Insurance Group is a strong advocate for shopping local. Grow your community & buy local! Stop by The Crystal Fish – Gifts of Distinction today!
The Crystal Fish