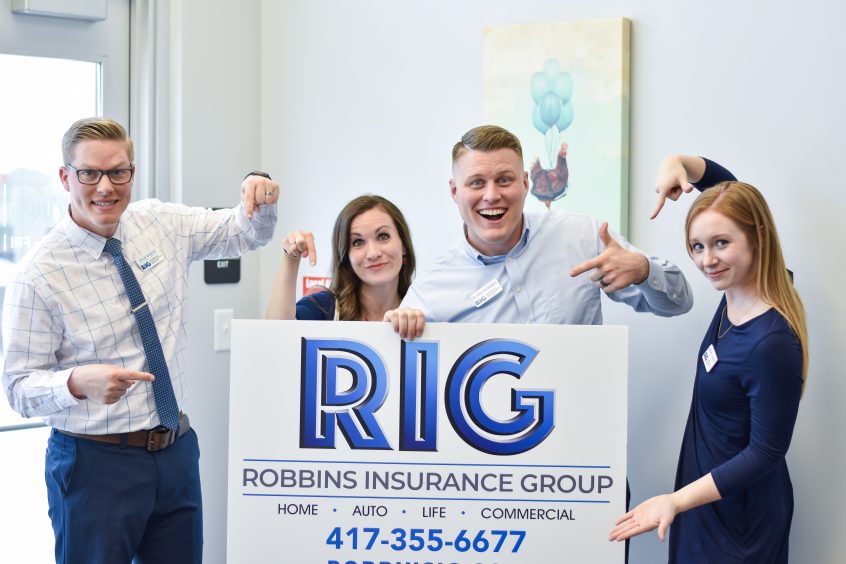 The RIG team comes from all different backgrounds. Blake, Kyle, Hannah, and Kortney all have their unique strengths. The one commonality? People focused. Client oriented.
At Robbins Insurance Group, we are different. The process is centered around you.
Blake
Blake founded Robbins Insurance Group to create a unique insurance experience. Blake has 7 years of experience in insurance and uses his knowledge to create coverage centered around each clients' needs. He has brought on several insurance carriers to ensure that we can serve our clients well. In one brief meeting, Blake explains your coverage. He lets you in on the scoop of additional coverages that do not cost a lot of pocket change.
Kyle
Kyle has been in the Branson area for 21 years. In this time, Kyle has built relationships throughout the community. Kyle thrives in environments where he can have good conversations and make connections with others. How is this beneficial to your insurance coverage? Kyle will make sure pay for the coverage you need and not for coverage you don't need.
Hannah
Hannah has a big heart for helping others. Hannah primarily handles the life insurance side of the business. In the process of getting life insurance, Hannah is very efficient and flexible. Need to reschedule because your little one is sick? No problem. Going on vacation and need to submit your application before your plane takes off? Hannah has you covered.
Kortney
Kortney has worked in the hospitality industry for 3 years. She learned a simple lesson: the details matter. She works to gather all the needed information from clients in as few contacts as possible. Your time is valuable and attention to detail saves precious time.
As a whole, the team saves people from anxiety caused by insurance & investments. Doing business with Robbins Insurance Group is simple. Call 355-6677 or visit robbinsig.com to start the process centered around you.